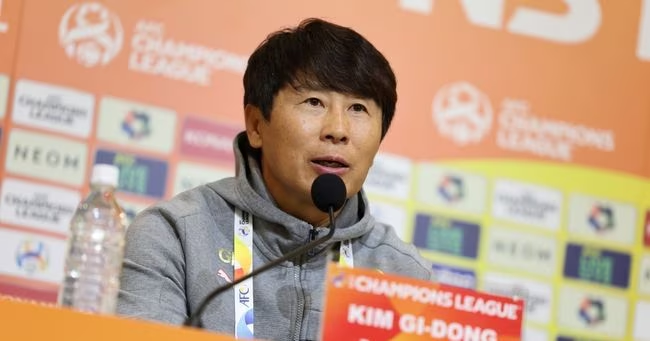 The Pohang Steelers, who are aiming for their first Asian title in 14 years, have improved their chances of reaching the round of 16 with three straight wins.
Kim Ki-dong's side cruised to a 2-0 away win over Urawa Reds (Japan) in their 2023-2024 Asian Football Confederation (AFC) Champions League (ACL) group stage third-leg tie at Saitama Stadium 2002 in Saitama, Japan, at 7 p.m. on Thursday. Pohang took the lead in the 22nd minute with a goal from Jung Jae-hee, before Ko Young-joon scored the winner four minutes into the second half.
With the win, Pohang's three-game winning streak was extended to nine points and a firm grip on the group lead. With wins over Hanoi (Vietnam) 4-2 and Wuhan Sanjin (China) 3-1, Pohang cleared the biggest hurdle to reach the round of 16 with a win over Urawa. It's the first time in 13 years that Pohang has won three straight matches in the ACL.
Coach Kim Ki-dong told the KFA after the game, "We were worried about injuries in both the league and the ACL. Even in the pre-match press conference, we talked about injuries. Nevertheless, we showed a good performance as a good team in today's game." "However, it was disappointing that we lacked decisiveness in the scoring department when we could have scored more goals. We will continue to do well in both the league and ACL with our players."
Kim continued, "As I said in the pre-match press conference, Urawa's style is very similar to ours. Even during our own practice matches, we were thinking about how to prevent Urawa's tactical formations and where the loopholes are. We prepared for short passes, tightened up our central defense, and prepared for counterattacks," he explained.
"I thought that if we could use Kim In-sung's speed to counterattack, they would be surprised. When the opponent raised a lot of sidebacks and gave us space, I think we took advantage of it," he said, emphasizing that the tactic worked.
When asked about Japan's recent dominance in the national team competition, Kim said, "I don't think much about the national team competition. But the club competition is also a Korea-Japan match, so I am more concerned about it than other matches." "Japan and Korea have different soccer styles, so you can't say who is better. Japanese players have something that Korean players don't have, and Korean players have something that Japanese players don't have, so I think it's important to utilize their strengths and compensate for their weaknesses," he said.
Meanwhile, Kim In-sung, who came on at short notice in the 30th minute due to Jung Jae-hee's injury and played a big role in the game, including assisting Ko 토토 Young-joon's wedge goal, said, "It's always difficult to play against Japan, but I'm glad we were able to get a good result today."
"After this game, we have a series of important matches in Korea," said Kim, "and I think that by winning today's match, we have gained strength to make our upcoming matches in Korea a little easier."